Bohemian Picnic Perfection Tips For Hosting A Boho Picnic Party
A Bohemian  picnic party is a whimsical escape into the heart of carefree, artistic celebration. It's where the lush beauty of nature and the vibrant spirit of bohemian style converge, creating an enchanting gathering that's as relaxed as it is eclectic. Picture sprawling blankets adorned with colorful cushions and soft rugs, all set under the dappled shade of towering trees. Handwoven tapestries billow in the breeze, lanterns and fairy lights twinkle as the sun sets, and a delectable spread of organic, farm-fresh foods invites guests to indulge in a sensory feast. Boho-chic attire, flower crowns, and acoustic melodies set the tone, making it an invitation to embrace the unconventional, dance barefoot, and celebrate life's simple, joyful moments under the open sky. A boho picnic party is where laughter, creativity, and connection flourish, where time seems to slow down, and where the ordinary transforms into the extraordinary.
Boho Party Set Up Outdoors:
A boho party setup outdoors is like painting a masterpiece in nature's gallery. It begins with choosing the right location – a garden, beach, or open field with a backdrop of trees or a serene lake, which instantly sets the scene. Low picnic tables or colorful blankets strewn with plush cushions become the inviting seating arrangement, perfect for lounging.Boho decor is all about embracing a mix of textures and patterns, so drape your space with vivid tapestries, macramé hangings, and strings of twinkling lights suspended between trees. Allow the natural surroundings to play a part by incorporating fresh flowers, wild blooms, and potted plants into your decor.
As for the dining experience, consider a buffet-style feast with a selection of globally inspired dishes. Think vibrant salads, exotic fruits, and a variety of finger foods. Incorporate eco-friendly and reusable tableware to maintain the sustainable ethos of the boho lifestyle.
Entertainment options abound, from live acoustic music to DIY craft stations where guests can create their flower crowns or dreamcatchers. Encourage your guests to embrace the boho dress code with flowy dresses, layered accessories, and flower-adorned hair.
Boho Picnic Birthday Party:
Boho picnic birthday party is the perfect way to celebrate another trip around the sun with a dash of free-spirited, artistic charm. Set in a picturesque outdoor location, such as a park or garden, it's an opportunity to immerse yourself and your guests in nature's beauty.
Blankets and low seating, adorned with an array of colorful cushions and textiles, create a relaxed, communal atmosphere for dining and mingling. Decorate the space with bohemian flair, using tapestries, dreamcatchers, and twinkling fairy lights to set the mood.For the birthday feast, think of a menu that combines fresh, organic ingredients and a variety of global flavors. Serve up salads, finger foods, and delectable treats, all beautifully presented on eco-friendly, reusable tableware.To keep everyone entertained, consider live acoustic music or even a DIY craft station where guests can create their own flower crowns or dreamcatchers, adding their artistic touch to the celebration.
Ultimately, a boho picnic birthday party is about embracing the laid-back elegance and creative spirit of the bohemian lifestyle, celebrating another year of life's beautiful journey in the heart of nature and surrounded by loved ones.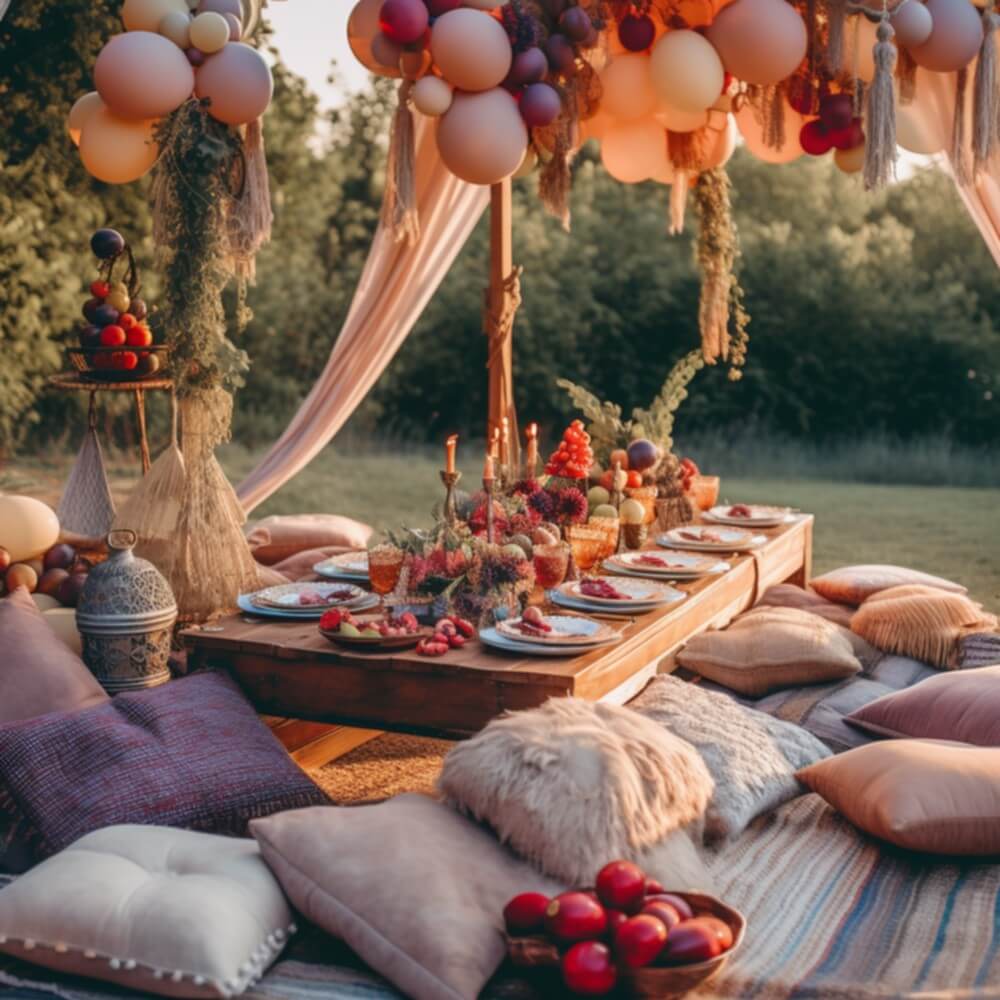 Boho Chic Wedding Picnic:
Boho chic wedding picnic is a celebration of love that combines the rustic beauty of the outdoors with the free-spirited charm of bohemian style. Imagine exchanging vows beneath a natural canopy of trees or by a serene lake, with guests comfortably seated on vintage rugs and colorful cushions, creating an intimate and relaxed atmosphere.
The decor is an eclectic blend of textures, patterns, and natural elements. Macramé hangings sway in the breeze, dreamcatchers adorn the surroundings, and strings of fairy lights illuminate the evening. Wildflowers, succulents, and lush greenery are thoughtfully arranged in rustic containers, enhancing the boho aesthetic.
When it comes to the wedding feast, a buffet-style picnic offers a delightful array of culinary delights, from gourmet sandwiches and salads to artisanal cheeses and charcuterie. Couples can choose to have a naked cake adorned with fresh flowers and berries, adding a touch of whimsical elegance to the dessert table.
A boho chic wedding picnic is an enchanting journey into the world of free spirits and creative expression. It's an invitation to celebrate love amidst the beauty of the great outdoors, where the charm of the bohemian lifestyle merges with the timeless joy of marriage, creating a wedding day that is as unique and authentic as the couple themselves.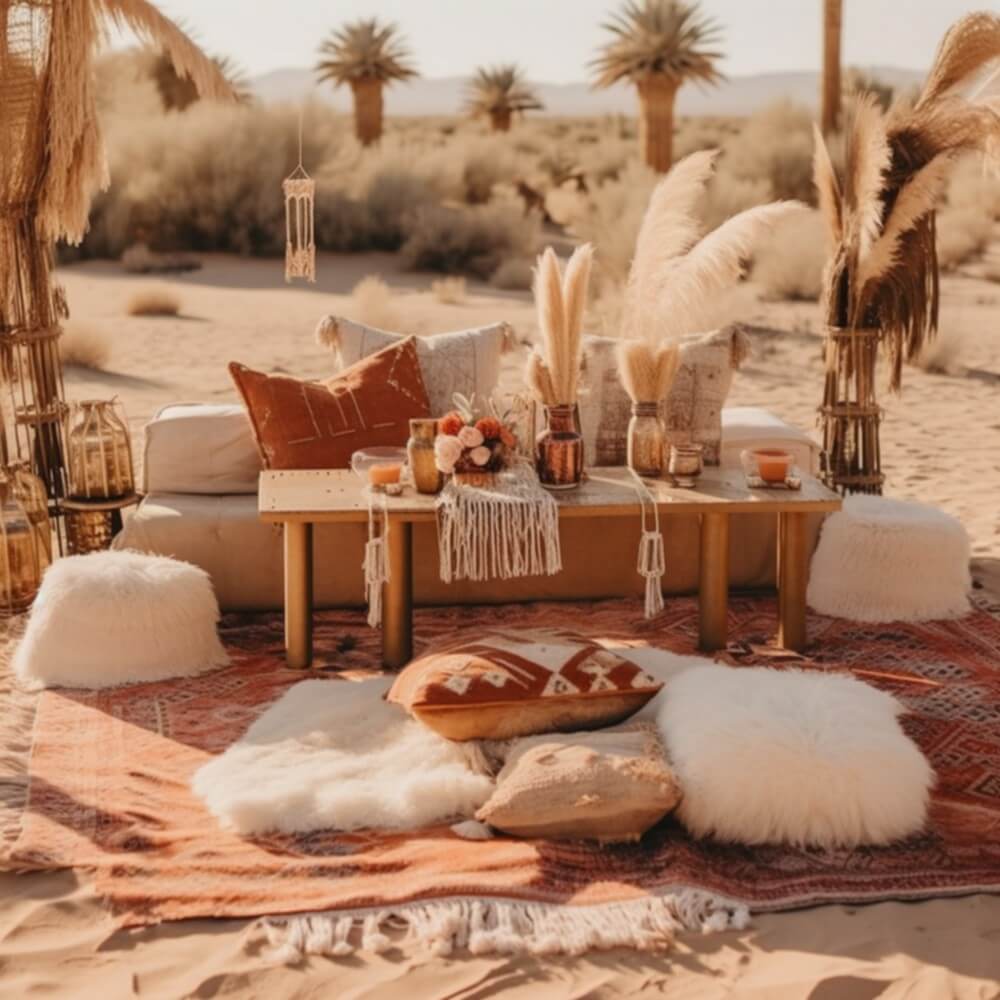 A Bohemian Chic picnic is all about embracing nature and expressing your creativity. Have fun with the mix-and-match decor, indulge in delicious food, and enjoy the relaxed, free-spirited atmosphere with your guests.