Boho Chic Living A Journey into Your Dreamy Bohemian Oasis"
Bohemian living room adorned in soft colors, where beige takes center stage, harmonizing effortlessly with a plethora of lush greenery. The heart of this space emanates tranquility, embracing the essence of the Bohemian spirit. Beige, the main hue, envelops the room in a gentle and soothing aura, creating a canvas for self-expression.As daylight fades, the ambiance transforms with the gentle flicker of candle decor lights. Their warm and delicate radiance casts a spell, infusing the room with an intimate and enchanting atmosphere. The play of light and shadow dances upon the soft hues, creating an ever-changing canvas that captures the essence of Bohemian aesthetics.In this captivating editorial-style photograph, a birds-eye view unveils a Bohemian living room masterpiece. A plush sectional sofa takes center stage, adorned with textured fabrics that beckon you to sink into their inviting embrace. Lush plants breathe life into the space, creating an oasis of greenery that brings nature indoors. An array of pillows adds an artistic touch, celebrating the eclectic Bohemian spirit.
The interplay of natural light and soft ceiling lights create a captivating ambiance, casting a warm and inviting glow that enhances the room's cozy allure. Billowing curtains, carefully chosen to complement the beige palette, sway gently, allowing sunlight to filter in during the day and adding an ethereal touch to evenings.Beneath your feet, white fur rugs create islands of comfort and luxury, inviting you to sink in and relax in ultimate style. The synergy of soft colors, verdant greenery, the warm embrace of ceiling lights, billowing curtains, and plush fur rugs creates a haven where the bohemian ethos of creative freedom and nature's serenity converge.
A Bohemian paradise with a palette of soft colors that emphasize tranquility and creative expression. Beige takes the lead as the main color, evoking a sense of calm and comfort. Infuse the room with an abundance of greenery – potted plants, hanging vines, and cascading leaves – to bring nature's vitality indoors, creating an oasis of lushness.It's an eclectic sanctuary that beckons you to unwind, connect with your inner self, and embrace the beauty of life's simplest pleasures. Whether you're hosting friends or finding solace in solitude, this bohemian living room captures the essence of laid-back elegance while igniting the sparks of your imagination.
Ceiling lights play a pivotal role, casting a warm and inviting glow that complements the room's inviting atmosphere. The play of light and shadow adds depth to the soft color scheme, creating an ever-changing ambiance throughout the day. Billowing curtains in complementary hues sway gently, allowing natural light to filter through and adding a touch of ethereal beauty to the surroundings.Underfoot, rugs define the space, a tapestry of patterns and textures that anchor the room's charm. Artwork adorns the walls, capturing the essence of Bohemian aesthetics through intricate designs and captivating visuals. Earthy tones envelop the room in a warm embrace, while the afternoon's natural light pours through the windows, casting a soft glow that enhances every detail.
Incorporating these elements—soft colors, abundant greenery, ceiling lights, curtains, and white fur rugs—transforms your living room into a haven that seamlessly blends Bohemian aesthetics with modern comfort. It's a canvas for personal expression and a sanctuary where nature's tranquility meets artistic inspiration.Introduce white fur rugs beneath your feet, inviting tactile comfort and contrasting textures that further elevate the space. These rugs create a cozy spot for relaxation, adding warmth and charm to the overall Bohemian vibe.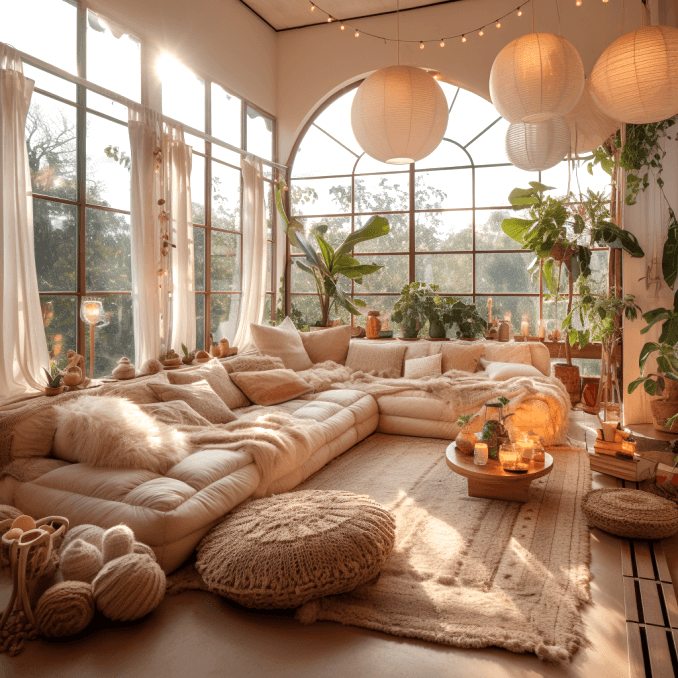 Bohemian living room that embraces the soothing allure of soft colors. This inviting space is a testament to the harmonious blend of muted tones that infuse a sense of tranquility and creativity. From gentle pastels to subdued earthy hues, the soft color palette creates an ambiance that encourages relaxation and introspection. Whether it's the dreamy creams, serene blues, or tender pinks, each shade comes together to craft a canvas that invites you to unwind, connect, and immerse yourself in the spirit of Bohemian living.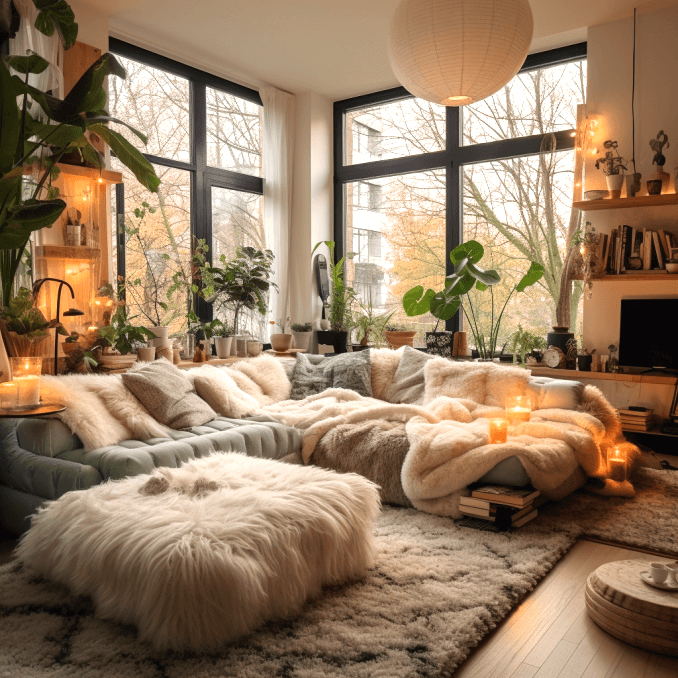 Captured in an editorial-style photo, this birds-eye view of a Bohemian living room invites you to explore a world of laid-back comfort and eclectic charm. The focal point is a spacious sectional sofa adorned with textured fabrics, exuding an inviting aura that beckons you to unwind. Amidst the plush cushions and cozy throws, a harmonious blend of earthy tones creates a warm and grounding atmosphere, while pillows add a touch of artistic flair.Situated in Seattle, this living room captures the essence of Urban Outfitters' style, a fusion of comfort and trendiness. It's a laid-back sanctuary where creativity thrives, and the boundaries of eclectic design are playfully pushed. As the day unfolds, the room becomes a haven of relaxation and artistic inspiration, where each element harmoniously contributes to the bohemian tapestry that defines this enchanting space.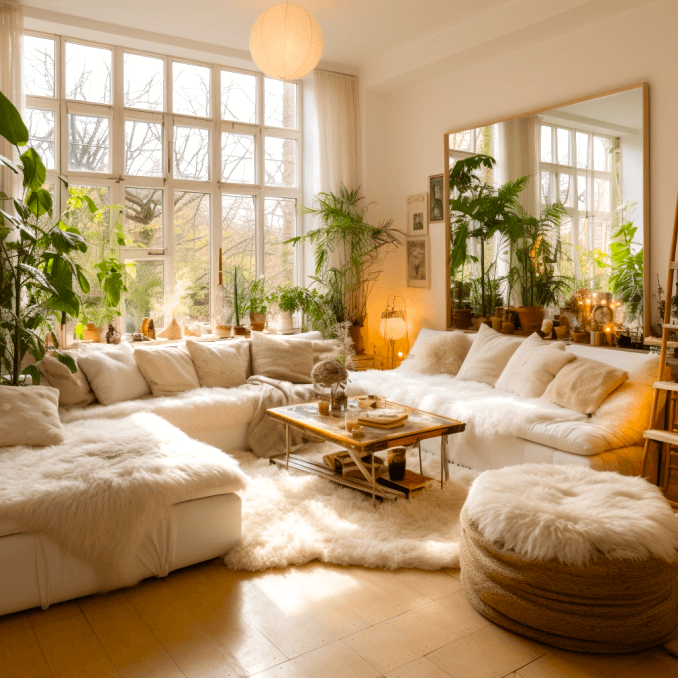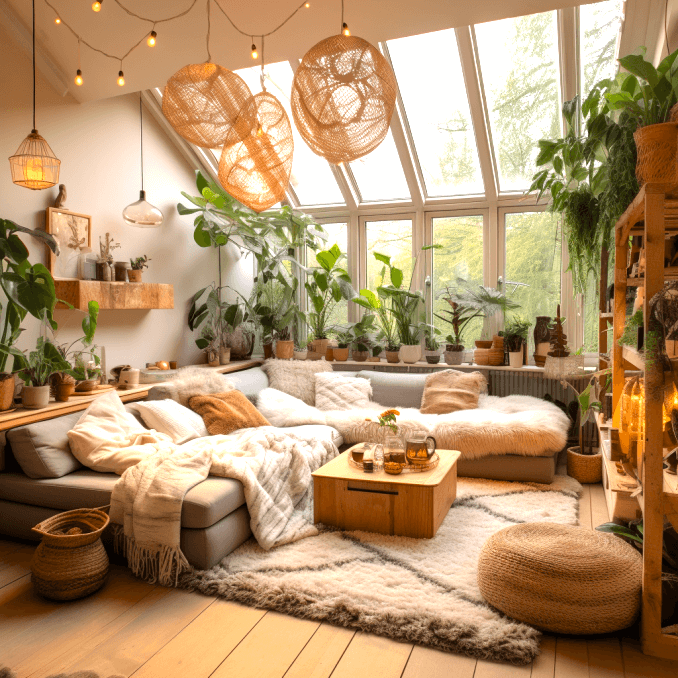 Plants dot the room, bringing a refreshing touch of nature indoors and infusing the space with vibrancy. An array of rugs defines the space, weaving a tactile tapestry that complements the Bohemian aesthetic. Artwork adorns the walls, capturing the essence of the free-spirited lifestyle through intricate designs and captivating visuals.Bathed in the soft embrace of natural light on a Seattle afternoon, this living room radiates an Urban Outfitters-inspired vibe, where comfort meets style in perfect harmony. With its effortless fusion of elements, this space captures the essence of Bohemian living – a sanctuary of relaxation, creativity, and the joy of embracing an eclectic way of life.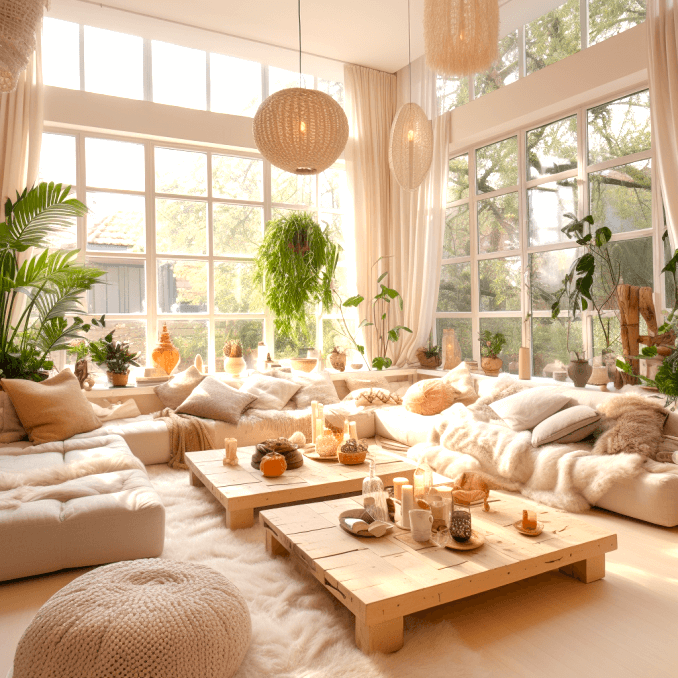 Explore a sophisticated Bohemian living room by using a neutral color palette of soft greys, whites, and beige. Incorporate elegant furnishings like a tufted sofa and delicate side tables. Enhance the space with metallic accents and mirrors to reflect light. Introduce greenery through tall potted plants to add a refreshing contrast.
Remember, the beauty of Bohemian style lies in its free-spirited and eclectic nature. Feel free to mix and match these ideas, adding your personal touch to create a living room that reflects your unique style and personality.