40 Bohemian Bathroom Decor Ideas & Trends
Bohemian bathroom decor invites an eclectic and free-spirited atmosphere into the most intimate spaces of your home. Characterized by a harmonious blend of colors, textures, and cultural influences, this style creates a unique and welcoming environment. Think richly patterned tiles, vibrant rugs, and mismatched vintage accessories that come together to form a mosaic of artistic expression. Earthy elements like plants and woven textiles add a touch of natural tranquility, while ornate mirrors and decorative lighting fixtures provide a touch of glamour. A Bohemian bathroom is a sanctuary that encourages you to embrace creativity, individuality, and a sense of adventure, turning your daily rituals into moments of self-discovery within a tapestry of global inspiration.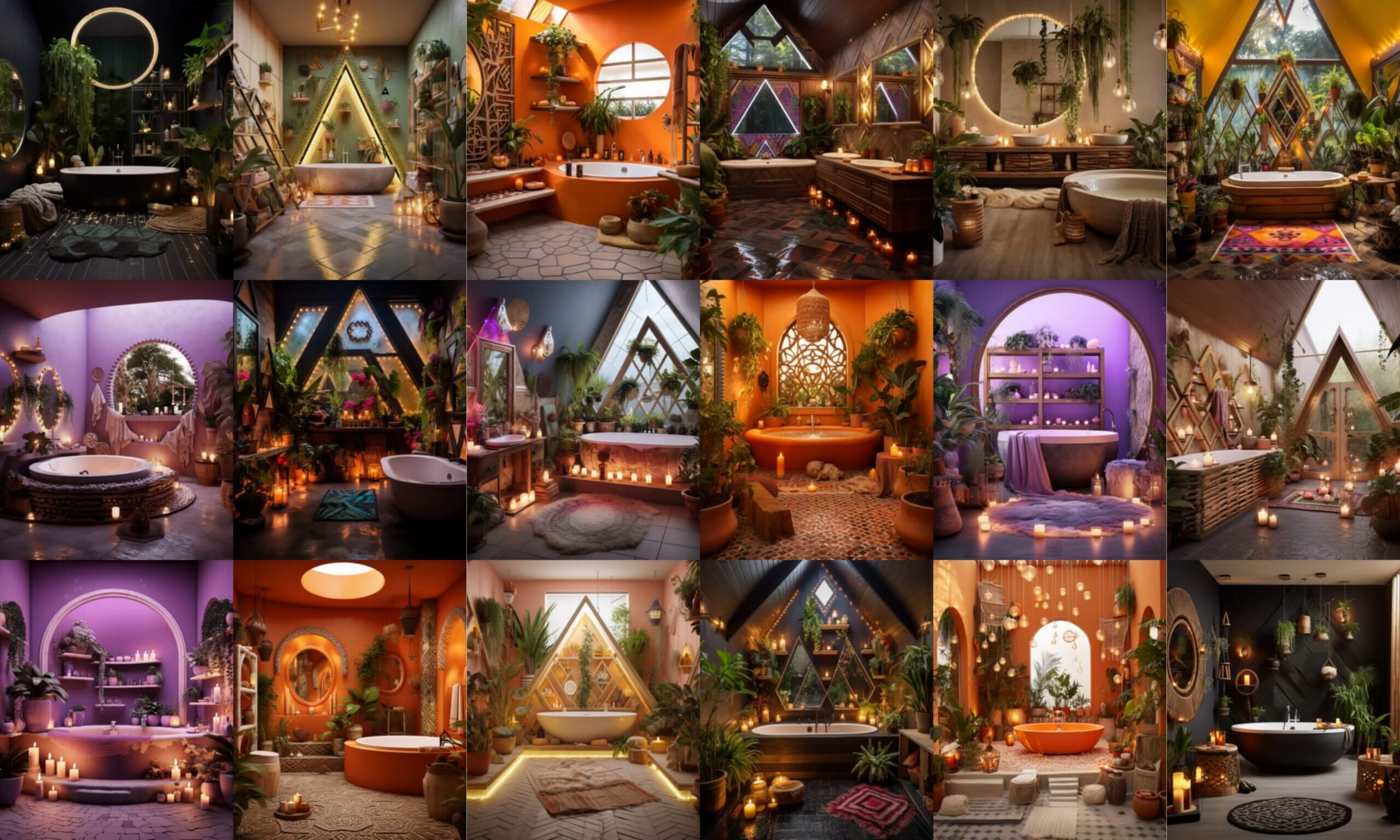 Incorporating black into Bohemian bathroom decor adds a touch of drama and contrast to the vibrant and eclectic style. While Bohemian decor is often associated with a lively mix of colors, the introduction of black can anchor the space and create a more sophisticated ambiance. Black elements, whether in fixtures, accessories, or even as a backdrop for patterns, lend a sense of depth and elegance to the overall design.Black can be used in a variety of ways to enhance the Bohemian aesthetic. For instance, black patterned tiles can create a striking focal point on the floor or as a backsplash. Black metal or wrought-iron accents, such as mirrors, light fixtures, or shelving, can add an air of vintage charm to the space.
One of the captivating aspects of using orange in Bohemian decor is its ability to evoke a sense of wanderlust and cultural diversity. When paired with earthy neutrals, such as warm browns and creamy whites, the orange hues take on a more organic and grounded feel, reminiscent of sunsets over faraway horizons. Conversely, when juxtaposed with other rich jewel tones like deep purples, blues, and emerald greens, orange adds a dynamic and captivating contrast, creating a visual feast for the eyes.To introduce orange into a Bohemian bathroom, consider using it in mosaic tiles, patterned textiles like shower curtains or towels, and decorative accessories such as rugs or woven baskets. Additionally, incorporating plants and greenery against the warm backdrop of orange can create a lush and inviting oasis.
Infusing violet into Bohemian bathroom decor introduces an element of mystery and enchantment, adding a rich and introspective dimension to the eclectic style. This deep and regal hue can be thoughtfully integrated to evoke a sense of spirituality and artistic expression, echoing the soulful essence often associated with Bohemian aesthetics.Violet, with its various shades ranging from deep plum to soft lavender, harmonizes beautifully with the diverse palette of Bohemian decor. When used in combination with other jewel tones like deep blues, emerald greens, and passionate reds, violet creates a captivating and opulent atmosphere. It can be incorporated through mosaic tiles, patterned textiles, or even as an accent wall to anchor the space.
Bohemian bathroom decor embraces the enchanting allure of candlelight, infusing the space with a captivating and serene ambiance. Candle decor lights serve as the perfect embodiment of the Bohemian spirit, creating a warm and inviting atmosphere that encourages relaxation and introspection. Delicately placed candles, from ornate candelabras to intricately designed lanterns, bring a touch of mystique to corners and niches, casting mesmerizing shadows that dance along the walls.Candle decor lights also provide an opportunity to introduce unique and artistic candle holders that align with the diverse influences of Bohemian style. Handcrafted pieces, vintage finds, and globally inspired designs can all coexist harmoniously, adding an element of storytelling to the decor.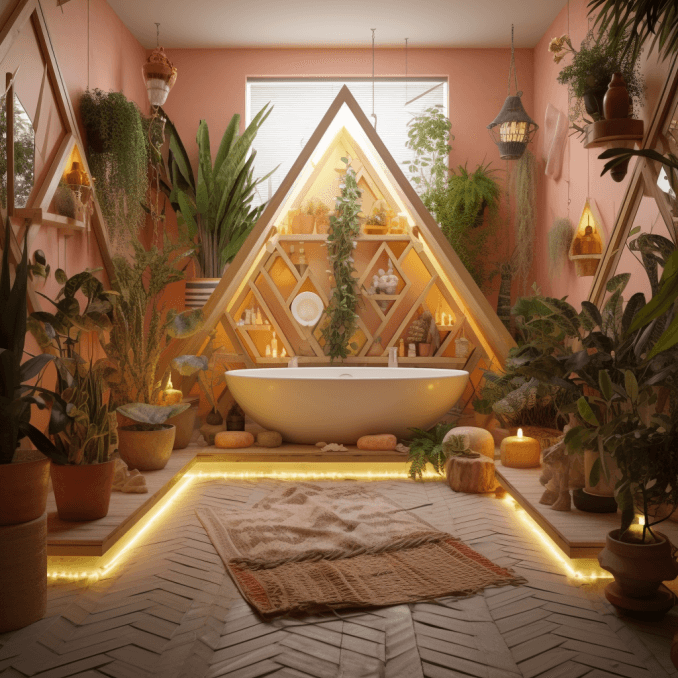 Incorporating the regal hue of violet into Bohemian bathroom decor, coupled with the soft glow of candle decor lights, results in a captivating and enchanting atmosphere. The deep and introspective qualities of violet blend seamlessly with the free-spirited essence of Bohemian style, creating a space that exudes both mystique and artistic expression.Imagine the interplay of violet-hued mosaic tiles and patterned textiles, serving as a backdrop to carefully placed candles. Lavender-scented candles in ornate holders or Moroccan-inspired lanterns contribute to the ambiance, casting a warm and gentle radiance that dances across the surfaces. The flickering candlelight creates a serene aura, encouraging relaxation and introspection.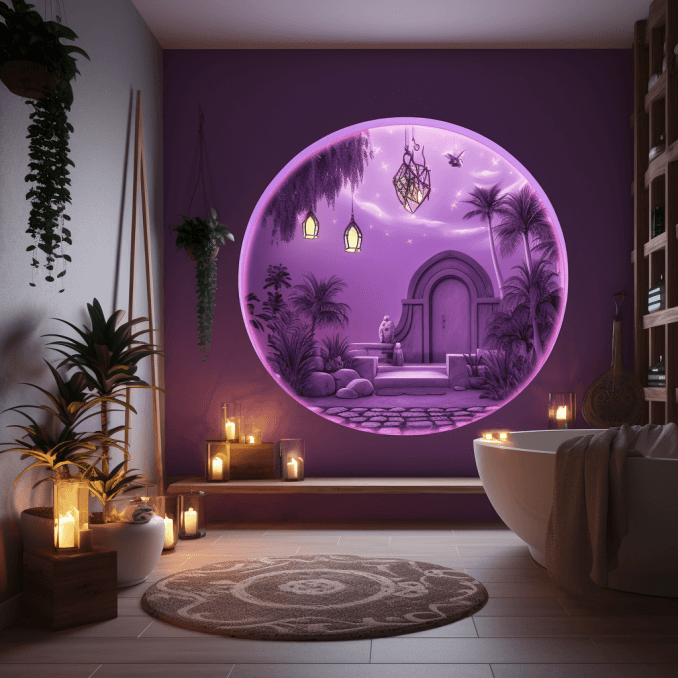 Imagine the interplay of terracotta-colored tiles and richly patterned textiles, enhanced by the presence of carefully arranged candles. Citrus-scented candles in decorative holders or lanterns with intricate designs cast a gentle and radiant light, transforming the bathroom into a sanctuary of comfort and inspiration. The flickering candlelight imbues the atmosphere with a sense of celebration and playfulness.The fusion of orange hues and candle decor lights crafts an environment that radiates positivity and artistic expression. This dynamic combination turns the bathroom into a place where you can invigorate your senses and embrace your individuality. The luminous presence of candles against the backdrop of vibrant orange adds a touch of Bohemian magic, inviting you to revel in the essence of exploration, creativity, and a vibrant joie de vivre as you indulge in your daily rituals.
Bohemian bathroom decor comes alive with an enchanting symphony of mirrors, wall art, and the soft glow of candle decor lights. Mirrors, often ornate and adorned with intricate frames, serve as captivating focal points, reflecting the diversity of patterns and colors within the space. Wall art, ranging from tapestries to vintage prints, adds a layer of storytelling and cultural richness, further enhancing the Bohemian narrative.Imagine mirrors with gilded edges reflecting the vibrant mosaic tiles, while tapestries adorned with global motifs add a sense of wanderlust to the atmosphere. Here, candle decor lights play a pivotal role, casting a warm and inviting radiance that envelops these artistic elements. The flickering flames dance across the reflective surfaces, creating an ethereal aura that invites introspection and relaxation.
Bohemian bathroom decor flourishes with a harmonious blend of planters, mirrors, wall art, and the enchanting radiance of candle decor lights. Planters, brimming with lush greenery, introduce a touch of nature's serenity into the space, creating a vibrant oasis amidst the eclectic surroundings. Mirrors, adorned with intricate frames and diverse shapes, reflect the tapestry of colors and patterns, amplifying the Bohemian aesthetic.Imagine verdant planters hanging from the ceiling or adorning shelves, their leaves cascading in a verdant dance. Mirrors, capturing the essence of cultural diversity, reflect the intricate details of woven textiles and vivid tiles, enhancing the depth of the decor. Against this backdrop, candle decor lights cast their gentle glow, illuminating the tableau with an enchanting radiance.
Incorporating the allure of black into Bohemian bathroom decor, coupled with the infusion of planters, mirrors, wall art, and the mesmerizing glow of candle decor lights, creates a truly captivating and enigmatic ambiance. Black, with its elegant and dramatic essence, harmonizes seamlessly with the eclectic spirit of Bohemian style, adding depth and contrast to the aesthetic.Imagine the interplay of black-framed mirrors reflecting the intricate patterns of vibrant tiles and woven textiles. Against this backdrop, lush green planters come to life, their leaves creating a striking contrast against the dark hue. Amidst this rich visual tapestry, the soft flicker of candle decor lights adds a touch of mystique, casting shadows that dance gracefully across the surfaces.
Ultimately, Bohemian bathroom decor is a creative and expressive style that invites you to embrace individuality, celebrate diversity, and curate a space that resonates with your unique personality. It's a canvas for storytelling, a sanctuary for artistic expression, and a reflection of a life lived with curiosity and openness.