30 Modern Boho Balcony Decor Ideas for your Home
Transform your balcony into a modern boho oasis, where contemporary design harmoniously melds with free-spirited charm. Embrace the beauty of simplicity by adorning your balcony with minimalistic yet eye-catching wall art. Opt for abstract or geometric prints that infuse a touch of artistic intrigue. Alongside, weave the magic of candle decor lights, strategically placed to cast a soft and inviting glow as the sun sets. These flickering lights create an atmosphere of intimacy and warmth, making your balcony a perfect haven for relaxation.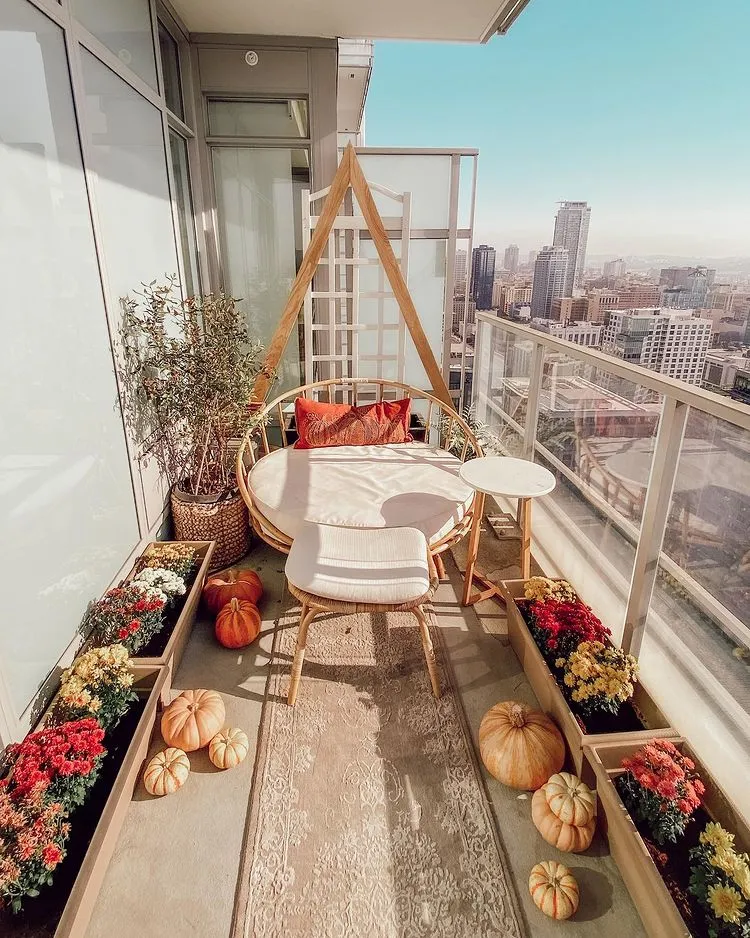 Balance the modern aesthetic with woven textures and vibrant patterns through plush cushions and throws on your seating. Incorporate hanging planters with lush greenery to evoke the bohemian spirit of nature. Consider adding a low coffee table adorned with candles and succulents for a cozy focal point. This seamless blend of contemporary design, candlelit ambiance, and artistic wall adornments transforms your balcony into a serene sanctuary where modern comfort coexists with the timeless allure of boho elegance.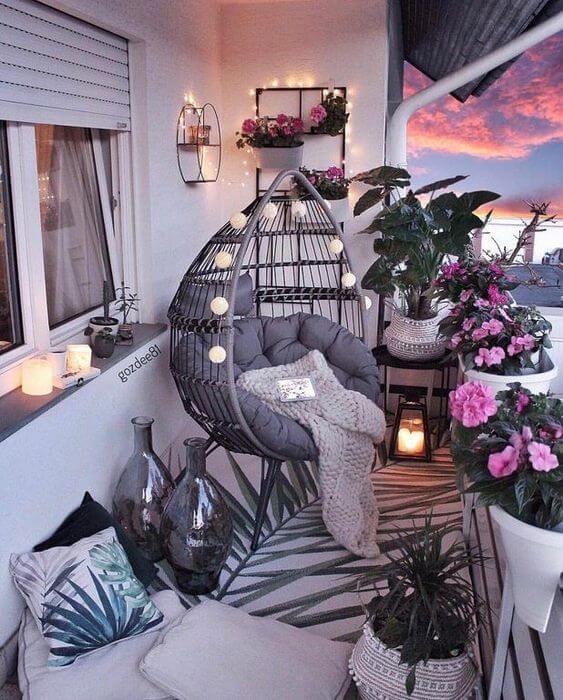 Elevate your balcony into a captivating boho escape that celebrates the art of self-expression and nature's beauty. Infuse the space with an eclectic charm by adorning the walls with an array of vibrant and intricate wall art. Opt for tapestries, woven hangings, or hand-painted pieces that mirror the free-spirited essence of bohemian style. Complementing this artistic backdrop, let the soft glow of candle decor lights take center stage, casting a warm and enchanting radiance as the day turns into night.
Arrange cozy floor cushions and poufs adorned with a mix of patterns and textures to create a comfortable seating area. Introduce hanging planters overflowing with cascading greenery, adding a touch of the outdoors to your boho haven. Consider incorporating vintage lanterns or woven baskets as unique decor elements that add to the aesthetic. With the interplay of flickering candlelight and the captivating wall art, your boho balcony becomes a retreat where you can unwind, surrounded by the soothing embrace of nature and the spirit of bohemian living.
Transport yourself to a boho-inspired retreat right on your balcony, where the enchanting blend of candle decor and planters evokes a sense of serene wanderlust. Infuse the space with the magic of candlelight by placing an assortment of candle decor in lanterns, mason jars, or even hanging tea light holders. As the candles flicker, they cast a warm and soothing glow, creating an inviting atmosphere that beckons you to unwind.
To truly capture the boho spirit, adorn your balcony with an assortment of hanging planters, each cradling lush greenery that sways with the gentle breeze. Opt for an array of plants, from cascading vines to vibrant succulents, to infuse the space with a natural vibrancy. The juxtaposition of flickering candlelight against the vibrant foliage creates an ambiance that exudes both tranquility and an adventurous spirit.Enhance the boho allure by incorporating woven rugs, floor cushions, and eclectic textiles that invite relaxation. This fusion of candle decor and planters transforms your balcony into a haven of sensory delight, where the play of light and the beauty of nature converge to offer a peaceful escape from the world.
By combining the warmth of candle decor, the vibrancy of planters, and the captivating allure of Moroccan-inspired elements, your balcony will transform into a magical boho haven where you can unwind, meditate, and soak in the beauty of your personalized retreat.